My Story
Kids and adults always ask me, "When did you publish your first book?" "In kindergarten," I answer. And they all look quite surprised.
In my kindergarten class, the first thing we did every morning was to draw a picture and tell our teacher a story about our drawing. Each day, our teacher would write down our story. At the end of the year, each student's stories and drawings were compiled into a book. I named that book — my first book — ROBIE'S STORIES. It was "published" in June 1946.
From second grade on, the first thing we did every morning was to write — anything — for 15 minutes. Our teacher told us not to worry about spelling. We could fix that later. Once a week, we would read aloud what we had wrote and our classmates would tell us what did and didn't work. The next day we would revise our writing-until we got it "right."
I still write numerous drafts — maybe more than 30 or even 40 or more for each book — so many I lose track of just how many! I still read what I write out loud to myself at the end of each day, so I can hear the parts that work and the parts that don't work. The next day, I work on the parts that didn't work. To this day, almost every day, I still almost always start writing first thing in the morning — a habit I first learned in kindergarten.
My dear friend and first cousin, Elizabeth A. Levy, is a talented and prolific children's book author. She and I attended the same elementary school. Liz and I are each other's first readers and toughest critics — a practice we both learned from our remarkable elementary school teachers. My husband and kids, my sister-in-law Robyn, and dear friend Debbie are also early readers of my drafts — and they are tough critics, too!
I never planned to be a children's book author. It just happened. But I always liked making books. I was editor of my high school newspaper and college yearbook. After graduate school, I became an elementary school teacher at the Bank Street School for Children in New York City and taught children how to write.
A few years later, I worked with two veteran and talented children's book authors, Irma Black and Bill Hooks, at the Bank Street Writer's Laboratory. Five mornings a week, sitting together with pencil, paper and a toy piano, we wrote a song and the five-minute opening segment for ABC's Captain Kangaroo show. Here I learned to spend the morning writing and the rest of the day rewriting, and to work with others to create something better than anything I could create by myself. Collaboration became a habit and I have worked with and continue to work with extraordinarily talented illustrators — Armando, Mariño, Michael Emberley, Molly Bang, Chris Raschka, Nadine Bernard Wescott, Patrick Benson, Tor Freeman, Jan Ormerod, Harry Bliss, and Nicole Hollander — so that hopefully my text and their art become seamless.
I grew up in a home where all the neighborhood children played and hung out. The home my children grew up in was that way as well. My mother adored and respected children. I too love and respect children — from babies to adolescents — and find them refreshingly honest and always fascinating. Perhaps that's why children, and only a few animals, are the characters in my books. The BIRD and BEE characters I created are really the voices of children.
I love to write about powerful emotions children have and how they express those legitimate and perfectly normal feelings. So, it's no surprise that my picture books explore the inner life of children and deal with topics such as: love, joy, attachment, independence, fear, sibling rivalry, and even anger and hate. I love to write about everyday moments, those 'Ah ha!' moments when a child is puzzled or is confused by something and asks questions such as: How are babies made?" I also love creating board book for infants and toddlers who are all so amazing and lead me to so many board book ideas.
My father was a radiologist, my mother worked in a biology laboratory before I was born, and my brother was a neurosurgeon. I am quite sure their love of science influenced me greatly and is probably why my nonfiction books explore such subjects as: infancy, early childhood development, gender, families, puberty, reproduction, cells, genetics, viruses, nutrition, health, and sexual health.
My family — being a wife and mom, and a grandmother — also influences my writing. My husband's work, and the work of my two grown children and their spouses', centers on children and families. I learn from my entire family, including my wonderful teenage grandchildren, who often consult on my books. They have weaved themselves into my current books in small and big ways. And I can't wait to see the ways they will weave themselves into my future books!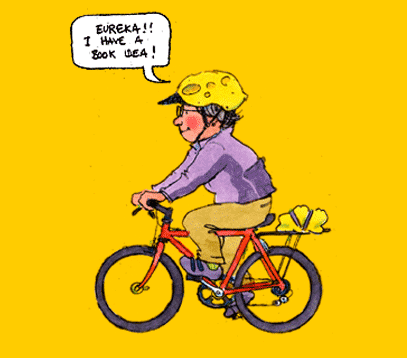 When people find out I write children's
books they usually have a lot of questions about
my growing up — and about my life as a
writer. Here's a peek into my life and my work.