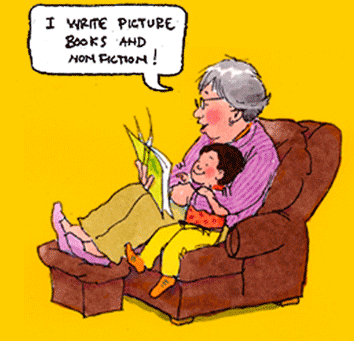 I'm always curious about
the authors whose books I read.
Still, it always surprises me
when someone asks me about
how I grew up, what made me
decide to become a writer,
why I write children's books
and all kinds of other questions
about me and my writing.






































A NEW NONFICTION PICTURE BOOK ABOUT DIVERSITY STARRING GUS & NELLIE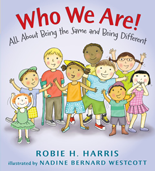 March 22nd! The publication date of illustrator Nadine Bernard Westcott's and my newest book WHO WE ARE! All About Being The Same and Being Different.
Read more about WHO WE ARE!
Join in the fun with Nellie, Gus, baby Jake and their parents at Funland as they go on rides, watch a performer, and play games with many other kids and adults—a story that can help children understand that although each of us is the same in many ways and different in many ways, treating each other with respect still matters.
TURTLE AND ME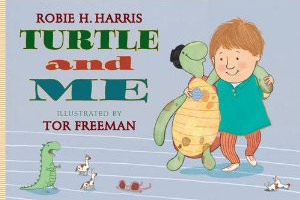 This picture book chronicles a young child's life with his beloved "lovey"—a stuffed turtle—who has been this child's best friend since the day he was born. But bad things happen to Turtle and now Turtle is ragged, ripped up, chewed up, sewed up, faded, and then receives the "biggest, baddest, most gigantic, horrible rip ever!" Is Turtle still needed? Maybe… Maybe not…
WHAT'S SO YUMMY? All About Eating Well and Feeling Good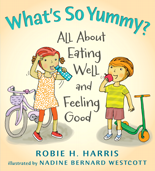 A new nonfiction picture book about healthy eating and exercise starring Gus and Nellie and illustrated by Nadine Bernard Westcott is the 4th book in our 5 book series for young children.
In What's So Yummy? Gus and Nellie and their family go to their community garden, the farmer's market, and grocery store to gather vegetables, fruit, meat, and other healthy, delicious, and fresh foods for a picnic. Interwoven into the story are fun and helpful facts about healthy eating and exercise as we follow this family through the day as they gather, prepare, and cook the food for a picnic. The day ends in the park as they enjoy eating yummy and healthy food together and flying an unruly kite together. All through the book, whether walking or riding a bike or scooter, or as baby Jake does, crawling, the whole family gets to exercise. Join Gus and Nellie as they have fun learning about why too much sugar is not good for our bodies and about the kinds of foods that are good for our bodies—why healthy snacks and water are also good for our bodies—and all about allergies, gluten and exercising.
The new and fully updated 20TH ANNIVERSARY Edition of IT'S PERFECTLY NORMAL, Changing Bodies, Growing Up, Sex, And Sexual Health — The new and fully updated 15TH ANNIVERSARY Edition of IT'S SO AMAZING! A Book About Eggs, Sperm, Birth, Babies and Families.
Every year, a new set of kids and teens come along who need honest, responsible, up-to-date, and accurate information about sexual health. That's exactly why I consulted yet again with experts to make sure the information in our books would be current and scientifically accurate in these newest editions. I then updated and/or added new information and illustrator Michael Emberley updated and/or created new illustrations—so that today's kids and teens can have information about sexual health that they seek and need in order to make good decisions and to stay healthy. The result—our new anniversary editions of IT'S PERFECTLY NORMAL and IT'S SO AMAZING!
Read more about these editions here: Download the Anniversary information sheet
What's Next?

TWO NEW PICTURE BOOK MANUSCRIPTS & AN OLDER NONFICTION BOOK, PLUS…
Amazing illustrator Chris Chatterton has just finished creating the art for the first of two new nonfiction picture books that are under contract about a topic I have never written about before in any book of mine—math. He will start in soon on the second book and I can't wait to find out how he will illustrate this book! This two-book project is exciting, daunting, and a challenge, but every book feels that way when in the midst of creation. And I have just begun writing a new nonfiction book, which is also under contract, after a year-plus of research and interviews. And I just signed a contract for two board books for infants and toddlers. Lucky me!
WRITING. WRITING, REWRITING, AND MORE WRITING
I am continuing to work on an old picture book—it's fiction—that I just can't seem to make work. Still, I find myself working on it an hour or so at a time, every few days or so. But it's not ready to send out to any editor yet. I love writing fiction for young children. And as ideas pop into my head, I find myself writing notes, notes, and more notes not only about this picture book, but also a story I might work on next. Yep, the ideas do not stop rushing into my brain. And who knows which of those ideas will pop into a new book or a book I will be writing in the future or even a book I am writing now. The ideas popping into my head—that's the easy part. For me, the hard part is the actual writing. But no complaints from me. Writing and figuring out the story, even though I find all that hard to do, it's what I love doing.