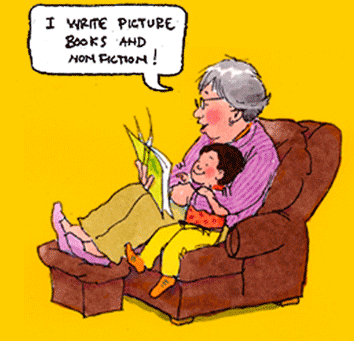 I'm always curious about
the authors whose books I read.
Still, it always surprises me
when someone asks me about
how I grew up, what made me
decide to become a writer,
why I write children's books
and all kinds of other questions
about me and my writing.





































What's New?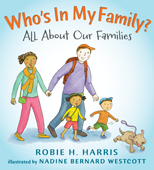 WHO'S IN MY FAMILY? ALL ABOUT OUR FAMILIES
WHO'S IN MY FAMILY? has just been published. It is the second book in illustrator Nadine Bernard Westcott's and my four book nonfiction picture book series for young children. This book features Nellie and Gus — siblings who were also featured in WHO HAS WHAT? — on another exciting family outing. This time Gus and Nellie are off to the zoo, where they see all kinds of families, including animal families. The text includes straightforward information about families and of course, Gus and Nellie's conversations with each other. And I just bet that yet again, young children will love pouring through the art that Nadine has created, listening to what Gus and Nellie have to say about families, and finding out so many interesting things about all kinds of families, including their own families.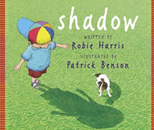 SHADOW
This recent picture book is the story of a young child, who discovers his shadow. At first he is a tad afraid, but soon begins to have fun with his shadow because it does everything he does—until the sun fades and his shadow begins to go away. "Will it ever come back?" is the big worry that makes this child feel so sad and gives emotion and suspense to this simple tale. When I saw the very first drawing that Patrick Benson made for this book, I was thrilled beyond belief because I knew that his art for this book would strike a responsive chord in young children.
What's Next?

A NEW PICTURE BOOK ABOUT FEAR
My newest picture book is about fear and will be published early fall 2013. I have just seen the final art and layouts for this book and both the art and the design "take my breath away!" What do I mean by that? I mean that the artist and designer for this book truly understood the text I wrote and extended it in visual ways that are just right for young children. More details to come.
What's In There?
Illustrator Nadine Bernard Westcott and I have just about completed the work for the third book in our four-book nonfiction picture book series that we are creating together. And I still love the challenge of writing these books and each new book in the series presents new challenges. The title of the third book is WHAT'S IN THERE? All About Before You Were Born. Nadine has just about completed the art for this book and young children will love her art, yet again. I have completed the research, the vetting, and the writing for the fourth book in this series. Soon, Nadine will begin the art for the fourth book. And soon, I will be starting to research and write the fifth book for this series. Over the last few years, as we have been working on these books, we have both become so fond of our characters Gus and Nellie and their family and friends.
Writing
Writing, writing, rewriting, and more writing. An exciting book collaboration with a talented colleague is just beginning. And notes, notes, and more notes about a new picture book I hope to start writing—I don't know when! But NO complaints at all about all the writing I have to do. It's what I love to do. I will also have some rewriting to do for the four picture books of mine that are under contract and will be published in 2013, and 2014! I know that those dates seem so far away. But the work that an author, illustrator, and editor do has to be completely finished one full year before a book is printed and published, and finally lands in bookstores, libraries, and on e-readers. And that's after I have spent one or two years or more writing and rewriting whatever book I am working on. Yep, making a children's book takes a long, long time.